Hoping that your holiday season has been full of memory-making! We celebrate Christmas and it's been a memorable one for sure...
In case you're stopping by to learn about the upcoming Shout Out Linky please go to this post. Katie & I would love to have you link up!
I had so much fun participating in the Holly Bloggy Christmas Exchange! Thanks so much to Ms. Preppy for organizing!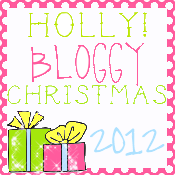 I got to sendsome of my favorite things to Erika of My Crazy Life. Head over to give her some love!
My favorite things from top to bottom: a Starbucks giftcard (love me some chai!); turquoise Duck tape; striped mini notebook & colorful pens; dark chocolate with sea salt; pretzel m&ms & a striped scarf. It was lots of fun putting the package together!!!
And, I got to open the gift I received today! It was nice to learn a lesson on delayed gratification! Ha!
My wonderful gift came from the adorable Liz at Teaching in the Valley. She wrote the sweetest little note that put a huge smile on my face. What a cutie pie!
Make sure you give her some love, too!
I absolutely LOVE my gifts!!!! Thanks so much, Liz!
A White Barn chestnut & clove scented candle. It smells ah-mazing...we've had it burning since I opened it. :)
When my daughter saw my polka dot fuzzy socks from Old Navy she about died of excitement. She has similar ones and loves to be a mini-me. So, we've been twins for hours already today. She's already told me that we better wear them to bed tonight. Thanks, Liz, for helping me make more memories with her.