I have been incredibly inspired by the amazingness out there in the pinter-blog-iverse and it was hard to narrow down to just two shout outs.
But, as co-host of the linky, I suppose I had better follow the rules, eh?
I would love to give Susan Moran of T.G.I.F. my first shout out...(she has more, waaaayyy more, followers than me).
And, I'm sharing her first 'cuz she was actually the original seed that sprouted and blossomed into this Shout Out Linky Idea.
See, she gave me a Shout Out on her blog back in Fall. And the feeling of being acknowledged and validated from someone you admire stuck with me. I want others...lots of others...to have that feeling, too! So, we're sharing the love!
Susan wrote a post about her Personal Narrative pack (which is FAB and I use) and mentioned MY Personal Narrative unit, too (the two packs work great together)!!!
And...it was on HER blog...a blogger I had been admiring and stalking for a long time.
I highly recommend any and all of her TpT products. I own and use lots of them. She has a brand new Valentine's Pack that is just presh!
In addition, Susan is just a lovely, kind and wonderful girl with nuptials upcoming. (Check out her engagement pics from a recent post! Amazing!)
That indescribable feeling of seeing your name and blog talked about on someone else's blog is just so cool. Kewl. Super duper cooool.
Thank you from the bottom of my heart, Susan!
My second Shout Out is for the uber-talented Linda Kamp from Around the Kampfire.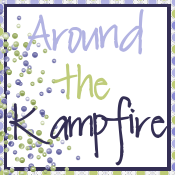 She is another brilliantly creative and kind-hearted blogger who inspired me to do a craftivity!
As in, make tracers, cut, copy and prep a bunch of construction paper pieces. And even make a sample.
The first fly-solo-with-no-parent-helpers-planning-prepping-and-making the craftivity in a loooonnnng time.
For many of you, craftivities are second nature.
For me? Not so much. (Those of you who know me are nodding.)
Maybe it's a patience issue. Or PTSD from copies or the copier gone bad. Not sure, but my kids are pretty deprived.
As in...the art tub often beats out the iPads or Indoor Recess Bags on Fun Friday! The art tub contains white paper, colored pencils and glitter crayons. Nothing too special. Yet they clamor for it!
I am seriously depriving them. Poor little firsties.
It was Linda's darling Pigeon craftivity that got me inspired to try a craftivity. Maybe because I adore Mo Willems? Or because Pigeon just all out rocks? Or because I'd taken my daughter to see the play at the local children's theater?
Not sure.
But I was inspired. Actually, more than inspired, because sometimes I'm inspired but then I forget about it until I'm stuck in insomnia-mode.
Or the dental hygenist is talking to me and I can't respond so I verbally uh-huh at appropriate times but my mind is wandering and I remember what I was inspired about.
But then I leave the dental chair and it's gone again.
This time, I was inspired to buy the unit, print it, prep it AND implement it. That's huge. Huge. Plus - it was fun!
Pretty sure I'll even be doing Susan's Love Potion craftivity from that Valentine Pack!
You really should check out Linda's blog and TpT store. She is just so talented and has lots of great products!
My wishlist on TpT has her super cute New Year's Resolution Writing pack...
Thanks for reading this long post! I am in awe of the amazingness you do in your classrooms and look forward to another year of being inspired!
By the way...make sure you visit my partner in crime to see who she's giving her shout outs to...I heart my co-host extra-ordinaire Katie Knight of Teacher to the Core!